Corporate Christmas Party Hire Posted on : Tuesday, November 5th, 2019
Have you thought of everything for your corporate holiday party in Perth?
The holidays are right around the corner, and that means it's almost Christmas party season!
After all the effort you put into planning your corporate function, you'll want your employees to view it as a fun event where they can unwind during a hectic time of year rather than just another work obligation.
You've probably put a lot of effort into selecting the venue and the menu, but are sure you've thought of everything you need for a memorable party? Here is a look at some other considerations you might have overlooked that can make or break your event.
Cocktail Furniture Hire
If you think your venue will take care of all the furniture, think again; most venues simply can't provide what you need to make your event special, especially at the holidays. Some might offer tables and chairs, but many lack the finishing touches that can set your event apart, which is where outdoor furniture hire can help.
Lots of people congregate around the bar at holiday parties, so you may want to invest in some study bar stools, perhaps with backs to support partygoers who are tired of being on their feet. You can never have too much seating at a cocktail party!
Hair pin bar tables provide a modern and sleek bar area where guests can quench their thirst and mingle, and they pair perfectly with Tolix stools. Furniture hire in Perth allows you to choose the exact colour table you need, whether you want something understated like light oak or you're looking to make a statement.
Hair pin Bar tables can be supplemented with smaller wire bar tables placed throughout the party area. A more classic bar, like a French provincial bar, will look the part this time of year if you drape it with some holly garland or even some fairy lights
Lounge and Sofa Hire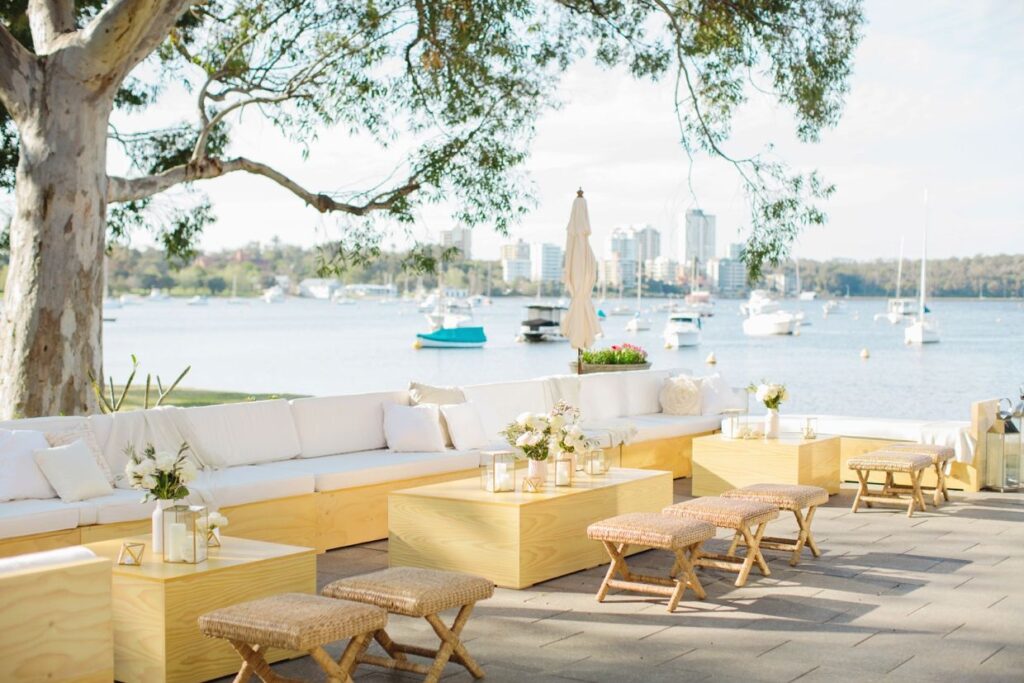 Not everyone will want to stay seated at their table or the bar all night, so consider placing a few lounges or sofas so your guests can get comfortable and enjoy the magical environment you've worked so hard to create. This is equally great at the beginning of the evening when everyone is just starting to enter and greet everyone as it is toward the end of the night when your guests are starting to wind down.
If you're having your function by the river or waterfront, a beachside luxe lounge set provides guests with a cushioned sitting area that is as comfortable as it is classy and fits in nicely with the surroundings.
A black or white sofa with timber slats and coordinating coffee tables will work well with any colour scheme, especially with the typical reds and greens you might be using this time of year.
Many party hire in Perth package deals include tables and chairs at a discount.
Don't make the mistake of forgetting about the lighting. This is what will set the tone for your party, and it's especially important at this time of year as Christmas and lights go hand in hand.
While your venue certainly won't be dark, it's worth going the extra mile to get the right lights to create a warm and relaxing feel.
If you're going to be outdoors, lighting that has been designed with cocktail parties in mind can make a big difference. For example, festoon lighting is an elegantly understated way to capture the feel of Christmas tree lights while providing diners with the right amount of illumination.
Dance Floor Hire
If you're planning to have music at your party, a dance floor is indispensable as the night goes on. You might think that whatever floor they have inside the venue will be suitable for dancing, but if you want to take advantage of the perfect Australian weather at this time of year, encourage your guests to dance the night away by arranging for an inviting and comfortable dance floor that can be placed outside. Many options come with different sized sections so you can fill your space perfectly.
There are elegant oak and concrete options for cocktail parties with a more upscale feel. If your company is all about being bold, you might also consider a dance floor with LED lights for a starry effect that will get everyone on their feet.
A corporate holiday party is the ideal way to reward your employees for their hard work and celebrate another successful year. It's time to start thinking about how to deck the halls of your corporate Christmas party to create a special holiday ambience and ensure your guests will be comfortable.
For outdoor furniture hire in Perth, Black Label Events offers all the complete hire packages, bar tables, lounges, dance floors, and lighting you need for merry making, so get in touch today!