5 Perth Party Hire Items You Must Have For Your Next Event Posted on : Saturday, August 24th, 2019
Gone are the times when parties were just about meet up and food. Throwing a party now requires you to make an entire checklist of items that would make your party talk of the town. Today, it's more about having an Insta-worthy party, where you can post swanky and ostentatious pictures and get thousands of likes within minutes. So, it all goes down to décor, the cutlery and the ambiance of the party. However, when you are the organiser, it is inordinate to remember all the things you need to make your event a classic one.
From choosing the venue to organising catering and furniture hire, everything needs careful attention. In all this fuss, you might overlook the must haves party furniture hire items for your event.
We bring for you a list of 5 items for party hire in Perth, to give you a helping hand in your event hire. Either you're planning something casual/laidback, corporate, or a little funky and spectacular, we will tell you how to make your event eye-catching with the best furniture hire pieces.
1- Bar Table Hire
The first thing guests look for in a party is to loosen up and relax. They want to sit and relax while downing drinks form the bar and bar tables make a case for that. From sleek and industrial inspired wire bar tables through solid oak barrels that create a nice rustic vide to full wine barrels making a thoughtful choice for people on a budget and look ultra-modern when paired with white or black tolix stool.
To make your event more chic, hire hairpins bar tables. These come in all shades of oak, light, dark, dark concrete, light concrete and white tops. The hairpin legs are available in white and black as well. Couple these tables with wire stools to upgrade the look.
2- Glassware Hire
You wouldn't like to serve your guests in tawdry plastic cups, would you? Low or poor quality Glassware Hire can put off your guests even if the décor is perfect, vibes are there, and the tone of the party is just the right intensity. Glassware should be on your priority list when organising a party. Serve that oldest red white or white wine in lustrous and sophisticated well-rounded glassware. If your guests are down for beer, present them exotic beer in well-heighted glasses, just perfect to satiate them. Don't forget to keep water glasses for some might want to down water to quench their thirst. The glassware is always delicate and exquisite so it's better to hire extra, in case your guests misplace or lose while dancing the night away.
3- Lighting Hire 

There's nothing better than lighting that creates the feel for a wild, rocking Perth Party,  all-night party. Great lighting alone is enough to bring all your guests on the dance floor, so make sure that you create that feel for your party with mood-enhancing festoon lighting available for hire, just the right solution for outdoor Perth venues or backyard parties.
Get your guests into the mood for grooving on the latest hits with up lighting that makes the event extra sparky and buzzing. Not just, it dramatically uplifts the ambiance of the party, also make you look super gorgeous in snaps too. What more can you ask for?
4- Lounge & Sofa Hire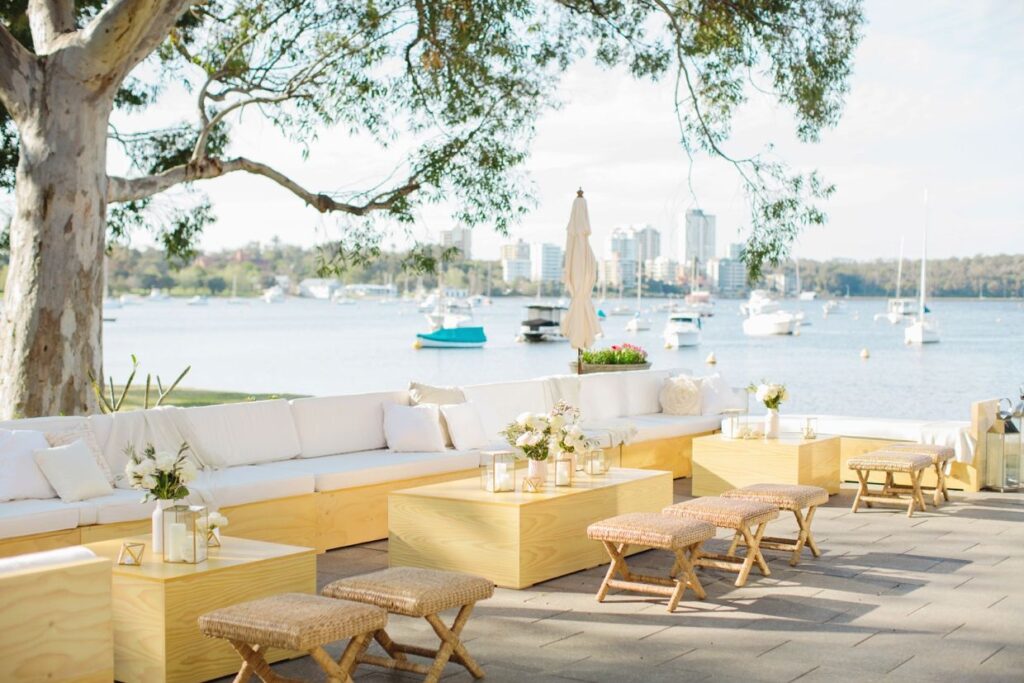 A laid-back party is what guests are looking forward to, so, ditch the formalities and make your guests feel at home. From chesterfield sofa sets to teak wood benches and elegant white timber sofas, you can choose any according to your type of event and party. Thinking of a beach side party? No worries! Lay out our exquisite beachside luxe lounge for your guests to stretch out on.
For those who like to keep it low-key, fix wooden sofa sets made out of solid hardwood and comes with thick, comfy cushions.
5- Bar Hire
No one wants to attend a party that doesn't showcase a grand and opulent bar. Make sure that your guests aren't strolling empty handed. Make the bar of your event all about "mixology" with fancy drinks, dressed drinks, margaritas, champagne cocktails and shots of course.
Serve these fancy drinks in style to your guests in a large punch bowl together displaying elusive collection of glassware that will impress them right away. Setting up a bar, you also don't have to worry about unsightly esky's, these can be nicely stored behind the bar
If you want your party to be remembered for days and be all over on your buddies' social media, don't miss out on these five must-have party hire items for your next big Instagram-worthy event. Wondering where to find these in Perth? Just give us a call.